Fung Asseng and Fung Ahok:
Two Chinese men in Potsdam in the 19th century
In Weinbergstraße 9 in Potsdam stands a house with yellow bricks. It was built in 1843 by the architect Ludwig Persius for a man called Fung Ahok. Ahok was a renowned Potsdamer at the time, one of the first Chinese people to live in Prussia. The history of this man and his partner Fung Asseng is related to the beginning of sinology in Germany, but also to colonial trade and racial anthropology.
Asseng (Feng Yaxing 馮亞星, also Feng Yasheng 馮亞生) was born in the last decade of the 18th century in southern China. He left his home to work at the Maritime Customs Office. He could therefore read and write Chinese, but had also learned English.
According to himself, Asseng left China in 1816. After several travels, he settled on the British island of St. Helena in the South Atlantic. He stayed there several years before traveling to London. Asseng worked as an interpreter between the English captain and the Chinese sailors. In London he met Fung Ahok (Feng Yaxue 馮亞斈[學]) at the headquarters of the British East India Company. Together, they signed a contract to work for a German waffle baker and showman. According to this contract both of them agreed to be exhibited in a show in continental Europe. After several representations, they traveled to the German cities of Weimar, Jena, Halle, and finally Berlin.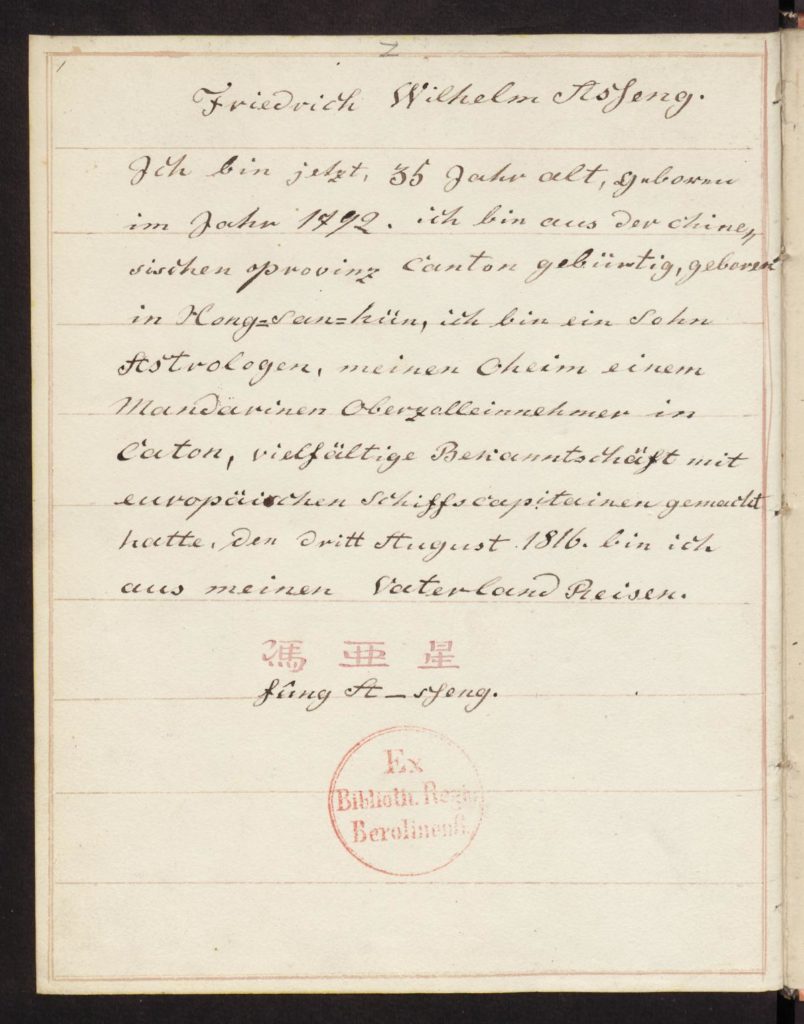 In 1823 in Berlin, Asseng and Ahok were exhibited in the city centre. The sculptor Johann Gottfried Schadow, famous for having designed the chariot on the Brandenburg Gate in Berlin, came to see them. He drew portraits of the two Chinese men and measured their physical characteristics. At the time, European scientists were starting to classify people due to their physiognomy. These assumptions would finally evolve in horrible theories on racial hierarchy that justified colonialism, segregation and even genocide in the 20th century.
The presence of the two Chinese men came to the ears of King Friedrich Wilhelm III. who made sure that the two would stay in Germany. The King saw them as an opportunity to develop the study of Chinese language. This would help developing trade with China. The King released them from the contract with the showman and covered all their expenses to study at the University of Halle, a century after the famous African philosopher Anton-Wilhelm Amo. Asseng and Ahok studied German and tutored some professors in Chinese language and literature. They were pioneers for the development of sinology in Germany. They translated Biblical texts. Pictures of these translations below show their handwriting and their incredible language skills. They were also given Christian education, which pushed them to be baptized.
In late 1825, they were sent to Potsdam to become gardeners. It is here that both got married in 1826. These were probably some of the first German-Chinese marriages in history.
Fung Asseng, baptized as Friedrich Wilhelm Asseng, married Johanne Marie Kraftmüller. They both had a son named Heinrich Wilhelm Asseng. Asseng's marriage lasted seven years and the couple had four children. But after his wife died, the king did not allow him to marry again. According to several reports, Asseng started drinking and gambling. Ultimately, he was forced to live in Potsdam's poorhouse. He was able to return to China in 1836 and reportedly died in 1889.
Fung Ahok married Ms Selle. He earned a comfortable salary as a private gardener for aristocrats. In 1843, the Prussian King commissioned an architect to build this house for Ahok and his family. He lived there until his death in 1877.
Text: Elisabeth Nechutnys & Yann LeGall