A cosmetic change: failures and hopes
in the renaming of the rotary with four Black busts
On 2nd September 2020, the Foundation Prussian Palaces and Gardens announced that it would rename the so-called "M-word-rotary" into "First rotary". In a press conference on 14th May 2021, the foundation confirmed this decision and unveiled an information board contextualising this renaming action on site. On 20th August 2020, the district council in Berlin Mitte announced that it agreed to the future renaming of the M-word-street into Anton-Wilhelm-Amo-street. On 15th August 2020, the Hotel "Three M-word" in Augsburg also announced that it would change its name. 
With those three examples, it seems that German institutions and their (mostly white) decision-makers have finally started listening to more than thirty years of demands expressed by African and Afro-diasporic voices. Activists have indeed been calling for the disappearance of the M-word in the urban landscape since the 1990s. Obviously, the debate on racist language in Germany has benefited from the international scale of the #BlackLivesMatter movement and its revendications regarding memorials, statues and street names.
Yet, this welcomed evolution is tainted by a white and right-wing backlash in the Euro-American political sphere. Members of the heterogeneous group that protested against the Covid-19 measures in Germany unabashedly brandished the black-white-red flag of imperial Germany while trespassing to occupy the front of the Bundestag. On the other side of the Black Atlantic, thousands of Trump followers stormed the Capitol and desecrated offices and symbols without being tear-gassed by police, without being shot down, without even being stopped and searched for weapons. So much evidence of which lives matter more than others.
Besides, when statues of slave traders are toppled into the sea, the backwash wave that they trigger only reveals what has always been there, namely the reluctance of many white people to confront the colonial past, address its contemporary legacies, and question their own privilege. At the same time, this renaming has re-awakened reactionary voices in the media and online, which call upon arguments against what they call "political correctness" or "cancel culture", mostly without considering the deeper meaning of decolonial processes. Some interventions by politicians in Germany (Wolfgang Thierse) and France (Jean-Louis Bianco, Jean-Michel Blanquer, Frédérique Vidal) have besides demonised intersectional, feminist, postcolonial and decolonial critique, labelling it with terms that are reminiscent of the rhetorics of the alt-right.
But we believe that symbolic acts like renaming can actually participate in a long-term effort to raise awareness on the lingering presence of institutional racism, neocolonial power relations, and issues of representation in a debate where some stakeholders have not yet reflected on their legitimacy to speak out. However, in order to be productive, these renamings or toppling of statues should not be cosmetic measures – a bit of powder here, a bit of make up there – but opportunities for structural change. Talking about shallow cosmetics, one can still find some ugly spots on some labels in the Park Sanssouci, despite the official renaming of the "First Rotary" (see photo below).
If German institutions do not engage on a long-term basis with the legacy of colonialism, such renamings run the risk of being only what Jens Nordalm has called "a good start". Renaming an installation without reframing or removing it perpetuates the discourse that this installation has fuelled for centuries, as Kenyan scholar Oduor Obura has claimed. Activist Daniela Ortiz even argued that the preservation of colonial cultural heritage in the urban landscape shows a willing preservation of colonialism in the present. Institutions that took (too) long to recognise their colonial past shouldn't be able to merely adorn themselves with such changes, but should rather set long-term processes in motion that tackle power hierarchies both in representations and in their internal structures.
So, What Now?
Several options to deal with racist representations in the public have already been suggested, and we believe that they offer interesting grounds for a debate on the future of this rotary.
An information board that informs on the former name-giver of a street, the new name-giver, and on the process of renaming, is a minimum one should ask for, so that passers-by can "stumble" upon and learn about the history of colonialism and decolonial processes. This is what occurred in Berlin with the former Gröbenufer (now May-Ayim-Ufer) in 2010 and more recently with Wissmannstraße (now Lucy-Lamek-Straße) in April 2021. The Foundation Prussian Palaces and Gardens has installed such an information board – a decision we welcome.
The statue of former governor of German East-Africa Hermann von Wissmann, whose history includes its traveling from Dar es Salaam to Britain, then Hamburg and Berlin, also shows a possible trajectory for those "signs of the potentate" (Mbembe): when reframed in the context of critical exhibitions on the colonial era, these installations are not cancelled but actively participate in an effort to work through difficult pasts and address traces of institutional in the urban landscape, as was done when Wissmann was displayed lying and full of paint in the temporary exhibition on German colonialism in the German Historical Museum in 2015-2016. The four busts of Africans could follow the toppled Wissmann and travel away from Sanssouci to serve as witnesses of the history of racism, exoticism, and the transatlantic trade of enslaved Africans in future exhibitions.
In Bristol, a week after the toppling of Edward Colston, the artist Marc Quinn opportunistically occupied the plinth with his artwork A Surge of Power, a statue of #BLM activist Jen Reid who had stood on this plinth with a raised fist a week before. Quinn declared that this statue was "not a permanent artwork," organised a press conference with Jen Reid herself, and thereby displayed to some extent a self-reflexive behaviour that earned him the status of an "ally" to the #BLM movement in the words of Booker prize winner Bernardine Evaristo. Yet, this intervention by a wealthy London-based white male artist in a Black-led-movement has also been criticized as capitalizing on the political moment for one's prestige. Even if it proposed a change in perspective in representations and sparked a debate on the possible futures for the square and the adjacent Colston Avenue, Quinn's intervention revealed the danger of seeming solidarity. It showed how the issue of representation goes beyond the question of who is represented; it is also about who has the decision-making power, who has the sovereignty of interpretation and who benefits from such political movements.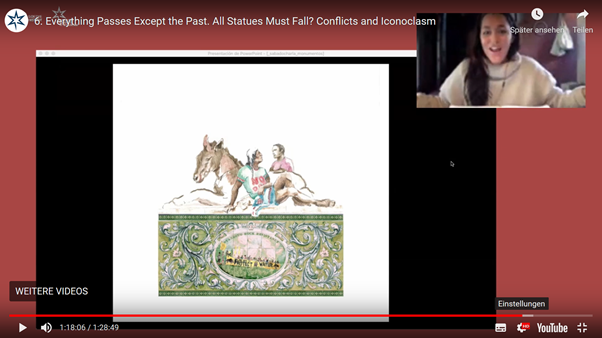 On the other side of the Atlantic, the Theodore Roosevelt monument in New York still stands with its unambiguous colonial-racist hierarchy. This has been a daily sight for New Yorkers and landmarks for tourists for 80 years. Last year, artist Daniela Ortiz was asked by the city council to make a proposal for a new monument replacing this shameless display of white supremacy. In her sketch for a new monument, she removed the white male character from the installation and displayed the Indigenous American character, the Black character and the horse "resting". In her words, they are having some well-deserved "leisure time after the struggle", sitting on a plinth whose four sides remember different anti-colonial movements.
In a similar vein, the Foundation Prussian Palaces and Gardens could publish a call for proposals for a new artistic installation in lieu of (or even with) the four busts of Africans of the rotary. Many African contemporary artists or artistic collectives have already engaged with the history of enslavement (see Kardux, "Monuments of the Black Atlantic"). An installation that addresses this history would be more than welcome in this imperial park.
Text: Yann LeGall